Check out our upcoming events and workshops, and click below to purchase tickets and/or RSVP! We'd love to have you join us!
Festa Friday Kizomba Social
October 21, 2022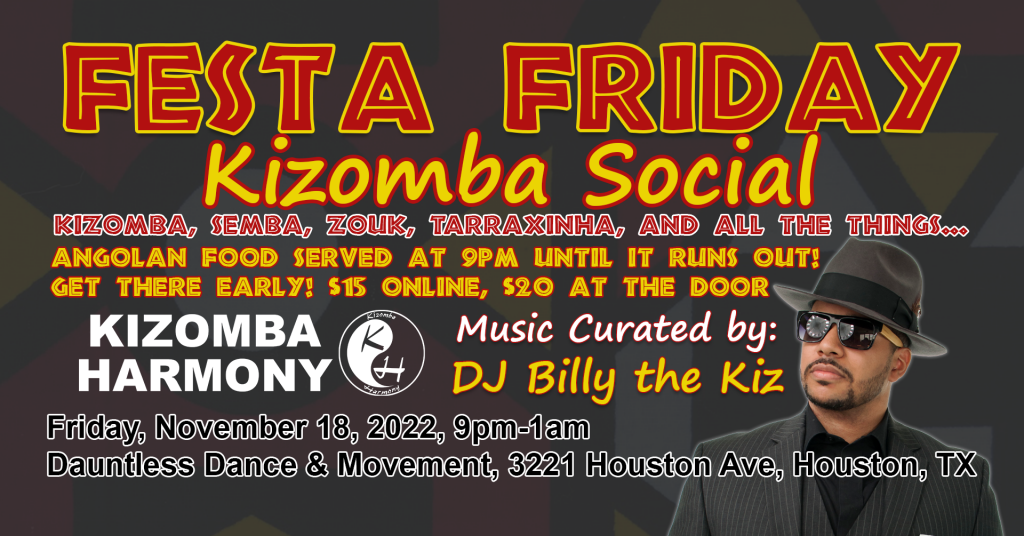 Houston, you've been asking for more opportunities to dance, and we've got you! Kizomba Harmony is proud to bring back our Festa Friday Socials on the third Fridays of the month! Music will be curated by DJ Billy the Kiz, who, as always, will be playing the best of Kizomba, Semba, Zouk, Konpa, Tarraxinha, Ghetto Zouk, and all the things! Join us for a fun night featuring Kizomba Harmony's trademark welcoming and inclusive vibe! See you all on the dance floor!
General Admission is $15 online until 6PM on the Friday of the social, and $20 afterwards, so get your tickets early!
5th Edition of the Kizomba Harmony African Dance Experience (KHADE)
Dec. 8-12, 2022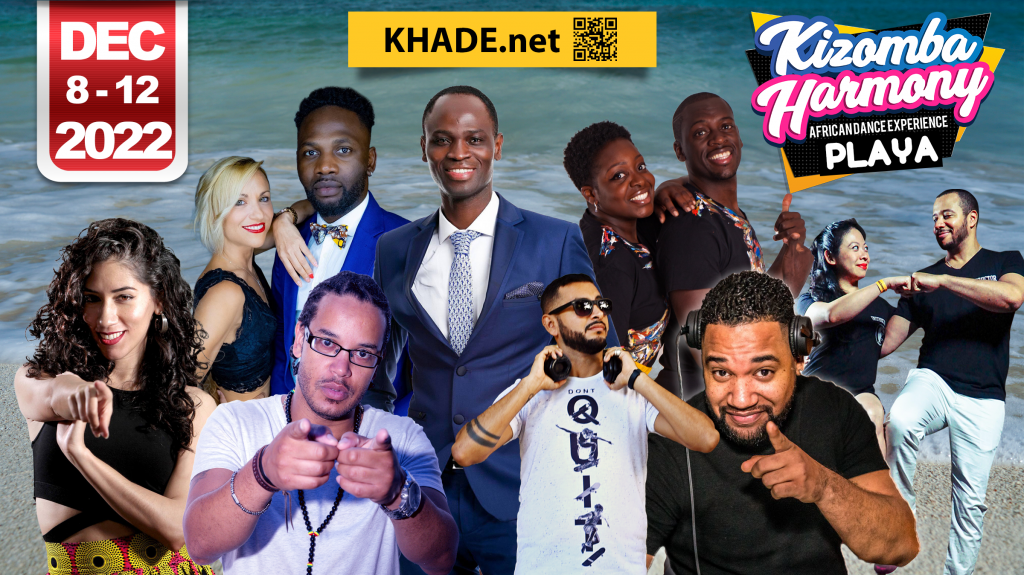 Join us Dec. 8-12 in Playa del Carmen, Mexico for the 5th Edition of the Kizomba Harmony African Dance Experience 2022, a truly unique experience!
Since 2016, our vision has been to bring together people from all over the world with diverse backgrounds and style/music preferences, to learn, dance, party, and fellowship, in a safe, respectful, authentically inclusive space, all at a beautiful beachside all-inclusive resort! Join us for #KHADE2022 and enjoy world-class instruction in Kizomba, Semba, Urban Kiz, Afro and more, pool & night parties, all at an all-inclusive beachside resort in Playa del Carmen, Mexico!
🔥Workshops in Kizomba/Semba, Urban, and Afro Rhythms with some of the world's best instructors
🔥3 Pool Parties and 4 Night Parties with music curated by TOP DJs
🔥Beautiful beachside resort venue with all-inclusive food AND drinks for a very affordable price!
🔥A truly and authentically inclusive vibe
🔥5 Hour Master Your Dance Kizomba Accelerator Bootcamp KHADE2022 available for those who want to learn to dance before the festival starts!
Get your passes now, book your hotel, and see below for more info!
#KHADE2022 LINEUP
🔥🔥🔥
Curtis Seldon (France) and Carola Tauler (Spain)
Dasmara Dossantos (Angola/Portugal)
Paulo Cruz and Lanna Zamora (Angola/Portugal)
Galitzine (CDMX, Mexico)
Daniel Duran (Playa del Carmen, Mexico)
Dj Hugo Boss (Mozambique/UK)
Dj Alnova (France)
Monica and Billy (USA)
🔥🔥🔥
Event Link: https://www.facebook.com/events/584279245658146
Master Your Dance Kizomba Accelerator Bootcamp KHADE2022 Event Link: https://www.facebook.com/events/1065146854437256/
Facebook Pages
Kizomba Harmony African Dance Experience: https://www.facebook.com/khade.net
Kizomba Harmony: https://www.facebook.com/kizombaharmony
Instagram: https://instagram.com/khadefest and https://instagram.com/kizombaharmony
If you're looking for a roommate, check out the Official KHADE Hotel Roommate Finder Group: https://www.facebook.com/groups/614156828738922/
Rooms WILL sell out, so to book your rooms at our discounted group rate, use the following link and book now (choose the "hotel only" option): https://www.reservhotel.com/playa-del-carmen-mexico/the-reef-cocobeach/booking-engine/ibe5.main?hotel=10284&agent=KIZOMBA&groupid=KIZOMBA&showmon=01-Dec-22