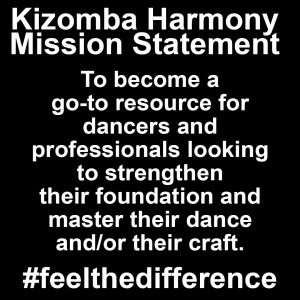 Sometimes to better know where you're going, it's important to think about where you've been and what you've accomplished to date.
Kizomba Harmony (which is the dance company co-directed by my partner Monica Kathleen and I) has taught or performed in 16 countries and counting. We created the first downloadable instructional app Kizomba To Go which has been downloaded in 80+ countries (kizombatogo.com) and soon will be rolling out Kizomba To Go Online, a far more robust online learning platform. We have earned the respect of those who know Kizomba best, and have taught and inspired 1000s of students around the world. We have developed a unique pedagogy we call "The Unified Theory of Kizomba" and have developed a unique expertise with which we are well equipped to teach Semba, Kizomba, Urban, African Body Movement, and more to any student willing to put in the work to master their dance no matter their level of "natural talent" or learning style. We were International Finalists in the 2016 Africadancar Kizomba competition, which only one other US couple has ever accomplished. We organize a festival in Cancun called Kizomba Harmony African Dancer Experience or KHADE (Click here for the FB Fan Page and here for the FB Event Page) with an all-inclusive energy unlike any other event of its kind, as well as our one-of-a-kind 2019 Master Your Dance Teacher Training and Urban Specialty Course (Click here for the FB Event Page) and our inaugural Master Your Mix DJ Training (Click here for the FB Event Page). We also organize the only competition of its kind the, Best All Around Dancer Competition and Weekender (click here for FB Event Link), in our hometown of Houston, TX, where we promote versality and strong social dancing foundation. And though I don't promote myself as a DJ much, I'm becoming known as a very versatile and talented DJ (DJ Billy the Kiz), capable of playing for any crowd and getting them moving and grooving. We are building a unified, healthy community, where everyone appreciates foundation but is friendly to creativity, and where everyone dances in an environment free of toxicity. And yet we have barely scratched the surface of what we will accomplish as we continue to work and grow and more and more good people #feelthedifference.
And everything we've done, we've done it without posting lots of flashy/sexy videos. We've done it without pandering for popularity or compromising our values, integrity or authenticity to gain the support of cliques. We've done it while being "blacklisted" by sexual predators in positions of influence and other toxic influences who feel threatened by our very vocal criticism of toxic behavior, and also by folks who feel threatened by our vision and the standards we are working hard to create. We've done it while being lied about, hated on, laughed at, disrespected, and more by folks who resent our potential, influence, and success.
How is our story possible?
Perhaps it's because we've trained in-depth with 30+ of the world's top instructors in everything from Semba to Urban. Perhaps it's because our disparate learning styles forced us to break everything we were shown down to a microscopic level and package it in a way that anyone could understand. Perhaps it's because of our work ethic, integrity, and consistency. Perhaps it's because we have attracted and worked with mentors who are secure in themselves and invested in us.
But more than all of that, I feel that our success is a result of three things:
1. We're damn good at what we do. Sometimes you gotta put the "false humility" aside and claim what's yours, we've worked our arses off to be able to do what we do.
2. We are fully walking in our purpose, as this is what we're meant to do, and we're adding tremendous value to our community.
3. Most importantly, we have attracted truly good people with amazing energy who support our vision and appreciate what we do. No matter how much value we add or feel we add, without that support none of what we do would be possible.
So THANK YOU to everyone who has supported us to date YOU are the main reason we've been able to do what we do.
Our vision is to create a thriving community and industry, where professionals are held to standards on and off the dance floor, where everyone dances with everyone, where people can feel safe and respected no matter their dance preferences or background, and where everyone has a strong foundation, no matter their style preferences, and we're doing just that thanks to your support.
This year one of our goals is to continue working to become go-to resources for professionals and dancers who want to master their dance and craft, whether it be dancing, teaching, or DJing, and we're working hard to make that happen. Stay tuned, 2019 is going to be a big year for us in dance and in life, and we look forward to sharing it all with you!